Which Ayurvedic Ointment Manufacturing Company in India Recently Showed Huge Growth?
Ikvans Healthcare is today the most emerging ayurvedic ointment manufacturing company in India. We started our company in 2013, and now we are one of India's top Ayurvedic product contract manufacturing companies. Our organization is capable of delivering products in bulk within the stipulated time limit. For our ayurvedic ointment manufacturing services, we have built a modern infrastructure plant in India. Here we have settled on the setup of a skilled team and hi-tech machines to supervise the whole making process. Thus, we have already obtained GMP, and WHO certifications to provide 100% quality-assured ayurvedic products.
Hence, if you are also curious about getting our manufacturing services for ayurvedic ointments, contact us now.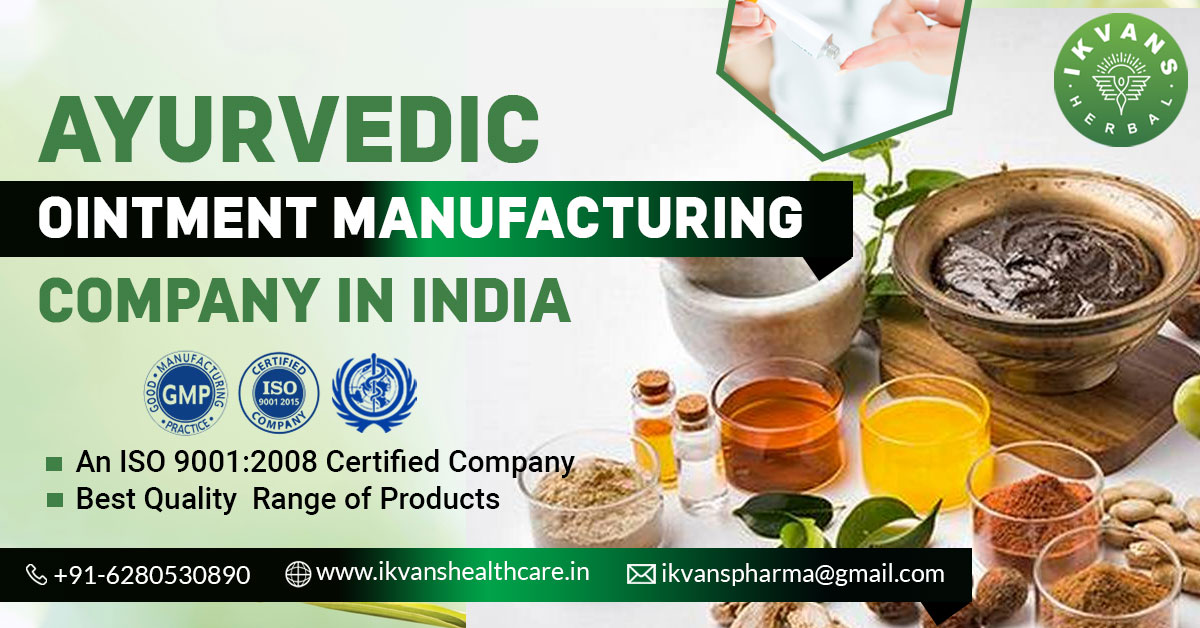 Why is Ikvans Healthcare The Fastest-developing Ayurvedic Ointment Manufacturing Company in India? 
As per today's market demand related to ayurvedic ointments and for many other products making services, our company's services are highly in demand. Because we have a cutting-edge manufacturing facility that follows strict quality management techniques. It ensures that all of our products fulfill international quality standards. Along with this, we have all the government certifications and clearances, demonstrating our dedication to quality assurance. Moreover, our company invests in R&D to continually enhance the formulation and efficacy of our products. With their help, we constantly improve the quality and efficacy of our products and always make new ayurvedic ranges.
Moreover, our company is committed and recognizes our duty to sustainability and environmental stewardship. We include eco-friendly practices in our operations, such as minimizing waste output and procuring sustainable products. Also, with our operations, we are expanding worldwide demand for natural and ayurvedic products by embracing sustainability. On the next side is the top supply chain network we have in our company. With this, we ensure the timely availability of all our products across India through a large distribution network and excellent supply chain management. Rather, we can reach global herbal product companies and pharmacies thanks to our strong logistical skills. Thus, because of our manufacturing and supply services, we always gain the respect of our customers.
Ikvans Healthcare provides quality-assured ayurvedic ointment manufacturing and fast-logistical services.
Our organization has long been recognized as India's premier ayurvedic ointment manufacturer and supplier. Since the inception of our firm, we have made every effort to produce and deliver quality-assured ayurvedic products. Every product we make here is significantly superior in every way, including quality, potency, and shelf life. Because all our product's ingredients, production methods, packaging, and everything else are always of the highest quality. As a result, WHO and GMP have certified our products' quality. 
Furthermore, we provide fast-logistics and transportation services; thus, we have personnel on the logistics special team. They are outstanding at what they do. We complete their orders in full and safely within 24 hours.
Conclusion
Now is the time to conclude my words. We hope you are persuaded that Ikvans Healthcare is the most reliable and well-stable ayurvedic ointment manufacturer in India, and if you want to take advantage of its best manufacturing services, please contact us right now. 
Faq's
Q. Who is the No. 1 manufacturer of Ayurvedic ointment in India?
Ans. Ikvans Healthcare is the No. 1 ayurvedic ointment manufacturing company in India.
Q. What types of products does Ikvans Healthcare provide in its third-party manufacturing services?
Ans. They provide several types of ayurvedic products in their third-party manufacturing services, and they are:
cosmetic, immunity, wellness, liver range, bone and joint health, and so on.