Your Ultimate Guide to Choosing the Right Moringa Juice Manufacturer in India
Ikvans Healthcare is an ISO 9001:2008 certified company of moringa juice manufacturer in India that provides its manufacturing services across the country.  To make this extremely valuable and demanded healthcare product we carefully select ingredients to make the best quality ayurvedic juices more effective with private labeling solutions. We believe in giving great results every step of the way, which is why we make our moringa juice and other ayurvedic juices using a diverse range of herbal juice ingredients. Also, to make all our products, we have an especially skilled team in our manufacturing units, and for their help, we provide them with high-tech machines as well. With their help, they can easily complete our customer's huge orders in a limited period. Also, our whole team is recognised as the ideal manufacturing firm for supplying Ayurvedic herbal juice with devotion, product quality standards, and professionalism.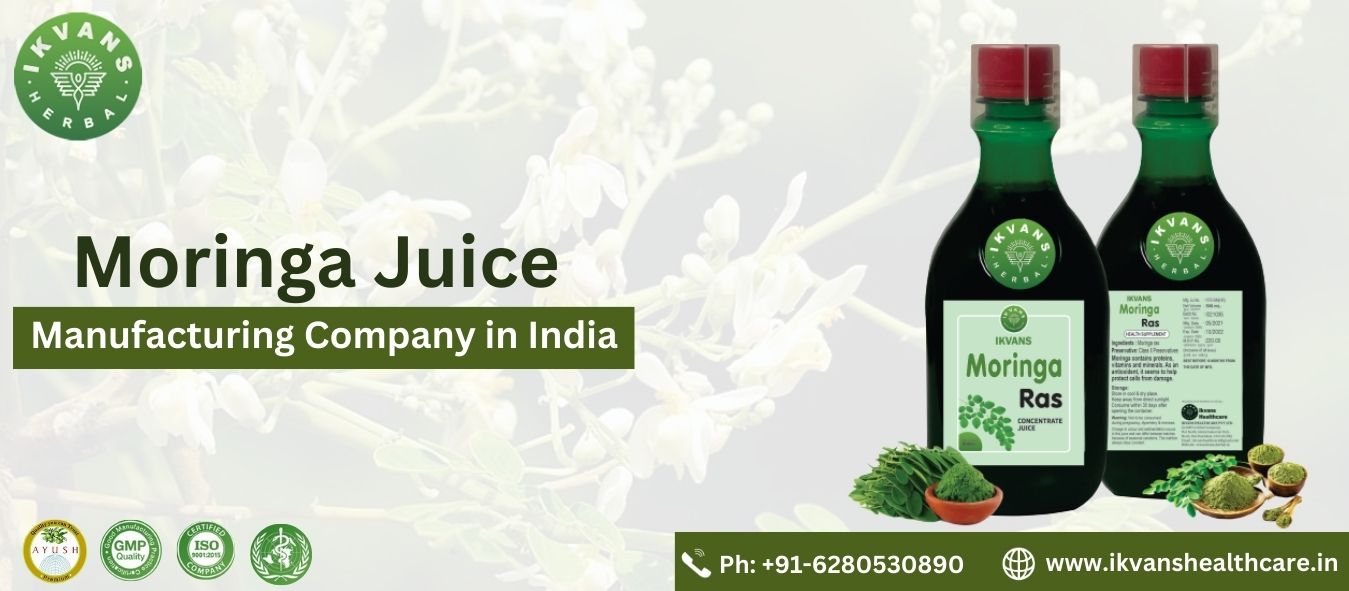 Hence, if you are also looking for the right moringa juice manufacturing company in India and many other herbal products as well, call us now. 
Why is Ikvans Healthcare the Most Prominent Moringa Juice Manufacturer in India?
We are the prominent name manufacturer of moringa juice and other healthcare products as well. To lead this position we exclusively utilize cutting-edge machinery and techniques to produce world-class moringa juice. Because of our advanced production facilities, we are India's leading producer of herbal and ayurvedic products. It also enables us to supply world-class herbal medications throughout the country. Moreover, to help the Indian pharmaceutical business flourish, our firm believes in delivering the highest quality herbal products on the market. As a consequence, our skilled staff thoroughly supervises all of our production procedures at all times.
Hence, we committed to the production of extremely effective and high-quality moringa juice and other ayurvedic product categories. However, as India's largest herbal products company, we also produce a wide range of cosmetics, ayurvedic capsules, liver products, digestive products, and so on. Thus, we are the most renowned and trusted company for high-quality Ayurvedic products. 
Some Other Quality Features of Our Company are as Follows:
We manufacture healthcare products that meet WHO, ISO, and GMP requirements. It shows their high level of quality. 

Another important feature of our organization is its research and development department. This team is always expanding in order to develop and provide new items to our consumers.

In our massive warehouses, we can keep a particular number of orders open 24 hours a day, seven days a week. It allows us to meet our client's demands at any moment.

In addition, we provide our customers with the quickest delivery services available. Our clients' orders are delivered on schedule as a result of this assistance.
Ikvans Healthcare

Offers Manufacturing Services for High-Quality Healthcare Products.
Today, our firm is well-known throughout India for producing the highest-quality moringa juice and other items as well. We ensure the delivery of a full, quality-assured pharmaceutical and supplement range all over India. We have all of the equipment required to test the quality of our company's products. Before arriving in the packing department, each product that we have manufactured is subjected to extensive quality testing and clinical assessment. Furthermore, our crew makes certain that the things are wrapped with many layers of string and pure hygiene materials.
End
Thus, as you have seen, we have talked about the most genuine and leading company, the moringa juice manufacturer in India. There are several beneficial facts we discussed here that are highly beneficial to our clients.  So,  if you are in search of the best manufacturing company for moringa juice and many other herbal and ayurvedic products, call Ikvans Healthcare now. 
Faq's
Ans. Ikvans Healthcare is considered today's best manufacturing firm of moringa juice and many other ayurvedic products as well.
Q. What are the types of herbal products Ikvans Healthcare provides?
Ans. They provide several types of herbal and ayurvedic products, including cosmetics, immunity, ayurvedic capsules, digestive medicines, and so on.